Though some of the articles published in The New Yorker each week are free, it still shelves many of them behind a paywall. But on my Facebook news feed I just caught a glimpse of a new roll-out from the magazine: web content only available on itsFacebook page: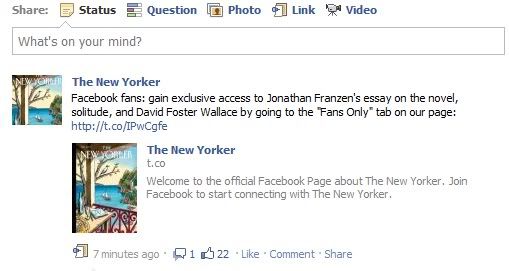 And when you click on the link it takes you to a very New Yorker-esque Facebook version of a Jonathan Franzen essay:
I spoke briefly to Alexa Cassanos, The New Yorker's director of public relations, about the decision to launch the Facebook-only version.
On what made The New Yorker staff decide to post the essay on Facebook:
We've been talking about doing something on Facebook for awhile, and I know a lot of people have been talking about the idea of doing original content for Facebook. For various reasons we decided that wouldn't work for us. And someone suggested this … We bounced around the idea for a couple weeks, and we decided on the Franzen story just because we felt like — I don't know if you've had a chance to read it yet — but it's a brilliant story. What we wanted to do is find some kind of content that would allow us to engage with people who would want to engage with our content on a long-term basis. We didn't want to just choose something that's a flashy story. What we were looking to do is obviously broaden our reach, but we wanted to do it with a story keeping with what The New Yorker does really, really well.
Why Facebook?
We have a million subscribers, but we only — I shouldn't say 'only' because it's a great number — but we have about 200,000 fans on Facebook. Obviously we think that that number could be bigger. And we'd also like to have people 'like' us or engage with us who aren't subscribers. Who are maybe fans of Jonathan Franzen, or who love fiction, or who like David Foster Wallace, or people who may have had no idea that The New Yorker was on Facebook.
On how The New Yorker will measure its success on Facebook:
I don't know. We're going to have to see how it goes. Ultimately we're going to try to create more fans of our page. That's what we're going to look at to see how successful it is. This is the first time we've done it. We're going to see how it goes, and it's something we may do again. We've talked about experimenting with different kinds of stories.
The essay will be up for one week. The page is currently liked by about 202,000 fans, so it'll be interesting to monitor the growth over the next several days.