It has long been understood that the largest liberal blogs have generally producedmore web traffic than the largest conservative blogs. But I have noticed a general trend over the past few months that I didn't want to write about until the end of the year. After surveying the traffic stats of many major political blogs, I found that web traffic for several major liberal blogs either declined sharply or stayed the same while major conservative blogs saw a sharp increase in traffic.
For consistency, I only included blogs that used the Sitemeter web traffic measurer. For each blog, I added up the web visits (sometimes referred to as unique visitors, though this term can be misleading) of the first six months and the next six months. After tallying up these figures I compared them to see if the blog's readership increased or decreased. With liberal blogs, I consistently saw decreases, some of which were quite sharp. For the conservative blogs, I saw a significant increase in the number of visits.
Now, it's very difficult to make conclusions based on these findings. It could be that the liberal blogosphere is experiencing a Long Tail effect, meaning that readers of liberal blogs are spreading out over a larger range of websites. And though liberal blogs showed a sharp decline in web visits during 2007, this isn't to say that their overall visits didn't increase compared to 2006 — it's hard to say, since Site Meter only tracks the previous 13 months.
Either way, it is certainly an interesting trend. Below you'll see my findings, first with major liberal blogs and then major conservative blogs.
LIBERAL BLOGS
Total visits for first half of 2007: 87,373,521
Total visits for second half of 2007: 86,994,331
A decrease of 379,190, or .4%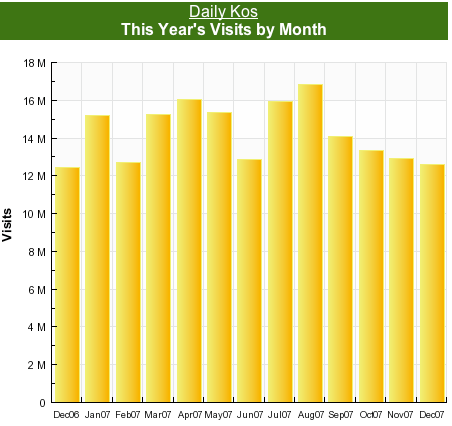 Total visits for first half of 2007: 29,670,556
Total visits for second half of 2007: 29,296,242
A decrease of 374,314, or 1%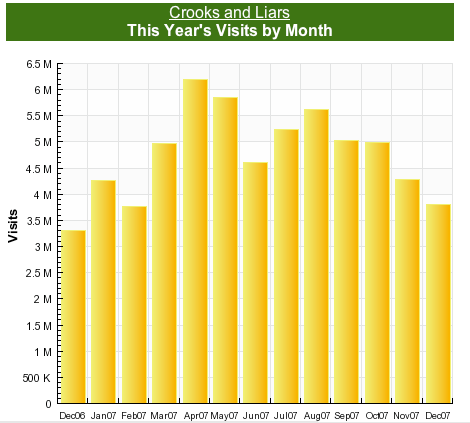 Total visits for first half of 2007: 18,376,378
Total visits for second half of 2007: 15,025,963
A decrease of 3,350,415, or 18%
Fire Dog Lake:

Total visits for first half of 2007: 13,558,479
Total visits for second half of 2007: 9,940,658
A decrease of 3,617,821, or 27%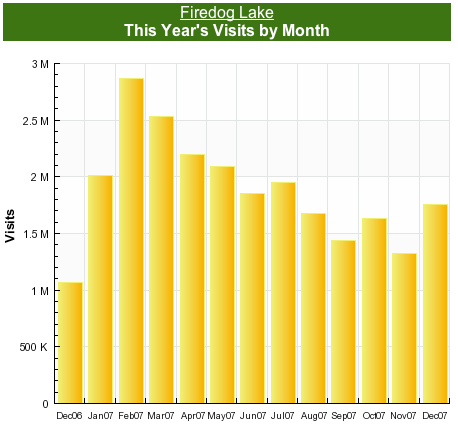 Total visits for first half of 2007: 4,807,916
Total visits for second half of 2007: 4,557,295
A decrease of 250,621, or 5%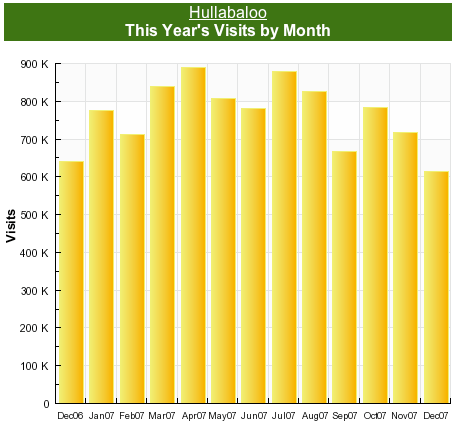 CONSERVATIVE BLOGS
Total visits for first half of 2007: 31,950,398
Total visits for second half of 2007: 36,729,803
An increase of 4,779,405, or 15%
Total visits for first half of 2007: 18,734,829
Total visits for second half of 2007: 24,435,479
An increase of 5,700,650, or 30%
Total visits for first half of 2007: 18,272,454
Total visits for second half of 2007: 24,566,481
An increase of 6,294,027, or 34%
Total visits for first half of 2007: 4,276,010
Total visits for second half of 2007: 4,980,036
An increase of 704,026, or 16%
Total visits for first half of 2007: 1,764,729
Total visits for second half of 2007: 1,783,724
An increase of 18,995, or 1%