Jay Lake doesn't spare his readers any graphic details.
In one Youtube video he's seen shuffling toward the camera, clothed in hospital garb and pushing a large IV stand. He looks slightly drugged and announces, "I'm alive, my little monkeys." In his blog, he at one point says that "colonic resectioning does not in fact make my turds shorter" and in another post mentions the "bizarre spasm in my surgical wound as I briefly coughed this evening." And in a photo he uploaded to his flickr account, you can see the inside of his colon and what looks like a small piece of macaroni.
On April 28, the day his SF novel Mainspring was released in mass market paperback, Lake visited the emergency room. He was experiencing massive internal bleeding (passing it rectally), and by the time they finally admitted him he had lost approximately 25 percent of his blood.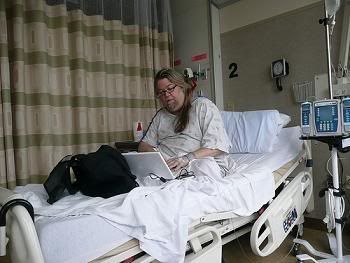 Lake told me about this incident during a phone interview late last month. Despite the fact that he was moderately drugged, the science fiction writer, known for his prolific output of critically acclaimed short stories, spoke without slur or any indication that his cognitive abilities were hindered. "It took me forever to get into the ER because I had no visible trauma," he said. "I came by car not by ambulance and I didn't have any pain. I felt like telling them, 'if I was bleeding on the floor as much as I'm bleeding in the bathroom every fifteen minutes you would have admitted me three hours ago.'"
He almost died that day. When the ER staff realized the severity of his situation they quickly hydrated him and initiated several blood transfusions. If he had gone any longer without help, he might never have found out what had caused his condition.
But as Lake later discovered, the bleeding, to borrow a cliche, was a blessing in disguise. Or as he put it, "My life was bought for me on a well-timed river of blood."
By the time the novelist confirmed several days later that the bleeding was the result of an ulcerated tumor , he was already documenting his medical life online. As he was being wheeled down a hospital hallway on his way to receive a colonoscopy, Lake recorded a video that would later be posted on Youtube. "So we're cruising along this walkway being dragged on a stretcher," he told me. "At one point I stuck my foot out from under the covers and started talking to it and had my foot wave back at me. It greatly alarmed the two girls who were hauling me along; they got really upset because I wasn't supposed to be exposed. And Adrienne, my girlfriend, had to tell them, 'he's doing it on purpose. He's shooting a video.'"
Lake had, in essence, become a documentarian. The doctors diagnosed him with Tubulovillous adenocarcinoma; he had a Stage I tumor with no lymph node involvement or metastasis. Because of the early detection, experts gave him a high chance for a full recovery. In the coming weeks, he would meticulously record every facet of his treatment for an online audience. Time that would have been normally devoted to fiction was spent dissecting his cognitive narrative. Entire paragraphs would detail the tubes sprouting haphazardly from his body. He uploaded dozens of pictures to the web and his blog readers watched Youtube videos he created — each one he opened with a cheerful "Hi there!"
"There were two fundamental reasons for why I decided to do this," he said. "For one, 'cancer' is one of the very few dreary words we have left. People walk around and say 'fuck' and 'shit' all the time, but they literally won't say the word 'cancer.' It's one of those fearful and shameful things– and it struck me as ridiculous. You know, it's not shameful to say you have bronchitis. It's not shameful to break your ankle…So I decided I wasn't going to let this go dark and remain mysterious. I have a daily blog with about 1,000 readers on it and I figured there was no reason not to talk about it in the first place. There was no reason to be ashamed. I live my life pretty openly as anyone who follows my blog knows; I talk about my child; I talk about my work; I talk about my career. I figured there was no reason not to continue living my life openly."
The second reason, he said, was because he planned to write a nonfiction book about his experience.
If he has his way, Lake will name it My Hat Is Full of Poop — the hat, in this case, is referring to the receptacle he used to gather his stool samples. Of course he realizes that many publishers wouldn't go for such a crude title, so he's willing to settle for A Tourist in the Land of the Slow. "I have a friend who lives fully," he told me. "He drives 45 miles per hour on the interstate in the right lane and takes 10 minutes to read a restaurant menu. And I live my life on fast forward. As you probably know from reading my blog, I always have 10 things to do that were supposed to be done an hour ago, and the one thing that the cancer has forced me to do really from the beginning is to just slow down; things had to happen once at a time. Even now I don't have the strength for the multi-tasking to get a lot done. I still have to take naps and spend a lot of time lying down. To me the two most salient features of my cancer were that I had to become slow and the fact that it was an emotional disease that ate up all my family."
Once he decided to write the book his blog became a point of reference, a detailed record that he would return to in later months while in the midst of research. The finished product, in his mind, would be a mixture of pop science and memoir. Lake would return to his healthcare providers and interview them at length, attempting to understand the mindset of the medical professional and the hundreds of often-arcane decisions he or she makes when planning the best treatment. "My goal is to write a book for people who have been recently diagnosed and their families," he explained. "But also it'd be interesting to the general reader."
When journalists sing the praises of new media, the words "crowd wisdom" usually surface. In Lake's blog posts, people began coming out of the woodwork, flooding his comment sections and feeding him a steady stream of information about the trials and pitfalls of cancer treatment. They'd take the opportunity to warn him about certain side effects or to simply recount their own experiences battling the disease. Lake began mining this wisdom, engaging in lengthy dialogs with them and at one point holding a contest for the commenter who could best cast his cancer in a humorous light (the winner: "Thank goodness it was shaped like macaroni, instead of spaghetti or, God forbid, lasagna.")
During our interview I asked Lake if he thought there were any science-fictional elements of his technological transparency. After all, he's not the first speculative fiction writer to blog about his disease. A few years ago, a horror writer named Kelly Goldberg (who wrote under the pen name d.g.k. goldberg) was diagnosed with cancer and wrote about it on her livejournal until she lost her fine motor skills and eventually died. "I think so," he replied. "A lot of writers in a number of genres live on the internet. But the SF community has a particularly strong online presence. I think we almost have this view of communication where we use public media to develop a writer persona. I've gotten very comfortable with the idea of online transparency. I'm not an information radical like a Cory Doctorow or Charlie Stross but I think there's a huge value in openness. I think that's part of the SF culture."
And the author admits that though the blog provides a venue for him to prepare for his book writing and to give insight into the world of cancer treatment, perhaps his most pertinent reason to be so open about his recovery is to put his friends and family at ease — to let them know that he's fine. And also, maybe, to provide self-recognition for the psychological and physical hurdles he has endured. As he wrote in his most recent post:
Dear diary —

Today I drove a car for the first time in a month. I feel almost like a real grown up. Tomorrow I am going out to dinner for my birthday. I plan to wear big boy pants for the first time since the surgery. Then I will be a real grown up.

Love,

Me