You're a newspaper journalist. Your editor doesn't care that your sources won't call back, she needs that story by 10 p.m. You rarely get to see your kids before they go to bed because that government meeting you're covering drags on until late at night. You file a story about a complicated issue and you just know the next day some expert is going to call in and point out how you got the story wrong. You get crazy people calling in daily demanding you to write a story about such-and-such or accusing you of having a bias.
But worst of all, you do all this with the understanding that you're being tremendously underpaid.
These are just some of the reasons that newspaper journalists gave in a recent studyfor why they intend to leave the industry.
Dr. Scott Reinardy, a 43-year-old professor with Ball State University, was sitting in a doctoral seminar class in the fall of 2003 when he started thinking about the stresses sports writers experience.
"Because sports is so intense, sports journalists would hear it from fans, coaches, players and their sports editor," Reinardy told me earlier this week. "They all wanted something, and sometimes it led to combative situations. I started thinking in terms of post-traumatic stress, but there was no trauma. And, it's hard to argue that covering ball games and eating pressbox food creates a great deal of stress, although the high-fat, high-sodium food can have adverse physical effects."
For 15 years he had worked as a sports writer and editor for five daily papers, so he knew the hardships of newspaper journalism. In 2005 the Center for Disease Control listed journalism as the seventh most stressful job in the US, but Reinardy wanted to know if this led to journalists falling victim to burnout, a trend that would cause many to leave the profession.
***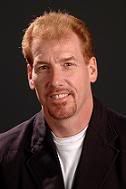 Dr. Scott Reinardy worked for five daily newspapers and knew firsthand the stress of being a journalist.
***
So in early 2007, the professor sent emails to 1,452 U.S. daily newspapers explaining his study and requesting the staff e-mail lists of their full-time newspaper employees. After emailing all the contact addresses that were given to him, he was able to get 770 journalists to fill out an online survey.
Implementing something called the Maslach Burnout Inventory-General Survey, which was developed to measure the rate of burnout among professionals not working in human services, Reinardy tried to examine whether age, job title, and newspaper circulation would affect journalist job burnout.
The results he received from the study were interesting. The average income of respondents was $48,493, and the average journalist was 41.6 years old with 17.8 years of journalism experience. The majority of the respondents were reporters, followed by news editors, copy editors, executive editors and photographers.
"When the journalists were asked if they had intentions to leave newspaper journalism, 25.7 percent answered 'yes' and 36.2 percent answered 'don't know,'" the study states. "…Further examination reveals that 31 percent of young journalists (34 and younger) expressed intentions to leave the profession, and 43.5 percent answered 'don't know.'"
When those who said they wanted to leave the profession were asked why, "36 percent said money or salary was the reason, 27 percent said hours or schedule and 19 percent said stress or burnout. Also, a reference to family life was mentioned in 13 percent of the responses."
After the study was completed, Reinardy concluded that though newspaper journalists had a high level of cynicism about their professions, they only had moderate rates of exhaustion and professional efficacy. And of the different job titles, copy editors at smaller papers experienced the highest level of burnout.
But where do all these journalists go? Are they moving out of the field completely or just moving on to other kinds of journalism? I posed these questions to Reinardy in my interview with him.
"Those intending to leave indicate that they will freelance, enter public relations, move into academia or return to school to advance their education in another area," he replied. "Those are the primary answers. It's really a mixed bagged, but the fact remains that there is a substantial percentage who intend to get out."
He further speculated that many might try their hands at online media, and that those who do want to move away from newspapers but remain in the media have plenty of opportunities elsewhere.
But this is just the first in a series of studies that Reinardy intends to conduct. He said that his next move will be to interview 100 journalists at length to dive into the intricate reasons for why they're so tired and dissatisfied with their jobs.
"My goal is to develop a management strategy that will address this issue," he said. "Of course, there is not one-size-fits-all solution. Each organization has drastically different problems. But my research indicates that there are similarities that can be addressed. For now, I'm primarily interested in creating awareness about the issues troubling newspaper journalists. Quite honestly, the solutions will evolve from the industry. I hear the skeptics saying, 'Yeah, right. newspaper publishers have no interest in saving their employees.' Well, to some degree that may be true, but there will be a breaking point when product quality greatly diminishes profits. When that happens, perhaps management will realize that the news worker needs to be as valued as the stock holders. Perhaps I'm an optimist but what's the alternative?"