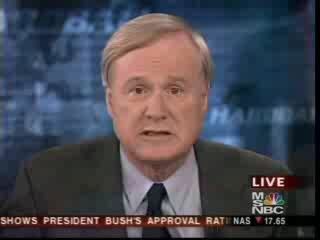 I have gone nearly six months now without cable. I keep myself fed with the occasional Netflix rental but otherwise I am now in a perpetual state of television fasting. This stems from my own cheapness rather than any objection to the medium — I moved to an apartment with more expensive rent and utilities and suddenly the idea of spending another $40 a month on cable seemed much less necessary.
But before this plunge I watched anywhere from a half hour to an hour of cable news a night, usually when exercising. Though in the past I was pretty eclectic about which network to watch, sometime early in 2007 I settled on watching MSNBC almost exclusively. What show I watched depended entirely on when I got around to exercising that night, but more often than not I would find myself following the ping-pong match that is Chris Mathews's Hardball.
At first, I found the show entertaining. But then when we entered February and March of 2007, Matthews, unlike the rest of America, which was just starting to prepare itself for a presidential season, was ready to draw blood. He became obsessed, in every single episode, — every single god damn night — with who may or may not run. When he didn't have a potential presidential candidate to pester with his annoying "areyagonnarun??" prattle, he and his guests would spend 15 to 20 minutes of every night repeating the same "analysis," a mixture of the obvious and wildfire predictions not tied to any actual public opinion polls.
Soon, I found myself reaching some kind of internal crescendo and having to change the channel in the same way that I had to switch off the radio after listening to Dr. Laura Schlessinger tell yet another pregnant mom that she better quit her job and abandon the feminist notion of a career. You reach a point sometimes when bottlenecking no longer gives you pleasure; just as some movies are so bad that they sink lower than the realm of camp, Matthews had managed to frustrate me to the point of driving me away.
But then came the six months without cable and I didn't give him much thought other than reading the occasional blog post or media article panning him. Today, though, I revisited Matthews at length when I read a profile of him in the New York Times Magazine Suddenly I was barraged with flashbacks of his contrived "Ha!" and duck-like speech, his sportscaster play-by-play shallowness, his horse race coverage. I realized then that he is the epitome of what's wrong with cable news.
Matthews is the antithesis of wonkery. He and his guests almost never provide insight to policies; there is no depth given to the issues themselves, other than the occasional argument over whether a specific platform can get pushed through into law. Candidates like to repeat the cliche that they're not running for themselves, they're running for the country. But Matthews shows no pretense over his coverage; it is about the candidate. His show is a character study of the presidential hopeful, a back-and-forth sportscaster analysis.
What's worse is that he is the definition of the mainstream media's bizarre concept of a "centrist." To them, fair and balanced isn't about truth, it's about making sure the scales are equally weighted with both liberals and conservatives. All opinions are created equal in this cable news world, regardless of which opinion is held up by facts. Nothing three dimensional is ever revealed in this world because, to pundits like Matthews, politics is a continuous game of "gotcha."
To illustrate my point, take a look at this quote from Matthews's profile:
On the morning of the Cleveland debate, Matthews was standing in the lobby of the Ritz when Russert walked through, straight from a workout, wearing a sweat-drenched Buffalo Bills sweatshirt, long shorts and black rubber-soled shoes with tube socks. "Here he is; here he is, the man," Matthews said to Russert, who smiled and chatted for a few minutes before returning to his room. (An MSNBC spokesman, Jeremy Gaines, tried, after the fact, to declare Russert's outfit "off the record.")
If MSNBC is so afraid of being candid about something as simple as Russert's exercise outfit, then why should we expect anything more from the politicians they're supposed to cover? MSNBC — and other cable news channels — have become the two-faced political machines they're supposed to counteract. They're nothing but noise.