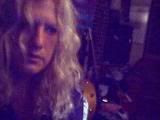 Robin Slick is the author of Three Days in New York City, Another Bite of the Apple, and Buenos Noches, Justine, light-hearted erotic comedies published by Mundania/Phaze Press. Robin's short stories have appeared in print and on the web-everywhere from heady places like In Posse Review and Slow Trains Literary Journal to give-heady places like Clean Sheets. She lives vicariously through her rock star offspring Julie and Eric Slick, who were featured in the Picturehouse Films documentary, Rock School, and are now members of the Adrian Belew Power Trio. Visit her online at her website and In Her Own Write, where she tries to blog daily about writing, rock music, and how much she abhors the Bush Administration.
Simon Owens: Does the rock music you adore influence your fiction writing at all? Does listening to music get you motivated to write?
Robin Slick: Hell, yes. Rock music influences everything I do. I'm one of those people who need music 24/7; it moves my soul and makes me think…and not to use an old cliche, but it really does get my creative juices flowing. I write early in the morning with my iPod headphones on, listening to everything from John Lennon to Ella Fitzgerald to Adrian Belew to the Flaming Lips to my newest "love," Citizen Cope.
Simon Owens: As someone who works in both short and long form when it comes to writing, which do you prefer? Novels or short stories?
Robin Slick: Both. I'm a short story addict, though. I can be deep in writing a novel and if I get an idea for a short story or someone solicits me, I drop everything. I think it's far more difficult to write a good short story than a novel because you have so few words to say so much and alas I am one of those old school writers who needs a beginning, middle and end in my work no matter how short the piece is – even my flashes accomplish this (I hope). But oh, how I love writing novels. Right now I'm doing final edits on the book I've waited my entire life to write – a novel about the rock scene in New York City in the seventies which is written 50% in flashback when the narrator is seventeen years old and a bit of a groupie and the other 50% in the present where she is an aging baby boomer struggling to keep her hip image in a very different world musically and politically.
Simon Owens: How successful have you been at using your blog to help promote your writing? Do you think that bloggers have an edge when it comes to promoting their work?
Robin Slick: Yes! I think blogging is probably the best promotion a writer like me, whose books are handled by a small, independent publisher, can have. I reach people all over the world and can promote myself sometimes several times a day via my blog, whether it be to post reviews I receive or bragging rights about sales figures or where my books can be found. For example, I mentioned in my blog that my latest book, Another Bite of the Apple, is now available at Fictionwise and it suddenly skyrocketed to a number one rating in erotica there today. I've met all kinds of cool people through my blog as well – a few months ago I required CPR after author Neil Gaiman stopped by and left me a remark in my blog's comments section and then actually recognized me and gave me a warm hello at a reading of his I attended in Philadelphia.
Simon Owens: How closely do you follow the careers of your two children? Do you go to all of their shows?
Robin Slick: Ha ha – I try desperately not to fall into the role of stage mother because I am so, so not that way. What I am is a music fanatic who is lucky enough to have two extremely gifted kids with unusually good taste in music – their tastes span all kinds of genres as well – and who just happen to be in a band now with one of my all time favorite guitar players, Adrian Belew. But yeah, I admit it, for example when they recently toured Europe with him, I would have killed to have been their groupie in every country they visited but good sense got the best of me and I knew it would be best for their careers (and their own independence as young adults) if I stayed home. But just try and keep me from any shows near Philadelphia! That will never happen.
Simon Owens: How did they both get involved with music?
Robin Slick: Well, with my son, Eric, I knew from the time he was two years old that he was going to be a drummer. I would play Cream or Zep CDs for him with complicated Ginger Baker or Jon Bonham riffs and he'd stand up in his crib and duplicate them by banging on the rails. This was before he could even talk! So we bought him a pair of bongos which were bigger than he was and caused him to topple over but he kept on playing even while flat on his back. By the time he was age four, he sat behind a real set of drums and over the next fifteen years, Eric, who honed his skills at the Paul Green School of Rock as their very first All-Star drummer, performed with Ween, Chris Harford, Napoleon Murphy Brock, Ike Willis, Jon Anderson of Yes, Eddie Vedder, Ann Wilson of Heart, John Wetton, Carlos Alomar, Doctor Dark, Project Object, and now his current gig with Adrian Belew.
Julie started playing bass at around age eleven. My husband is a guitarist who is also a collector so our house is filled with guitars and basses and every kid who ever visited our house usually picked one up and fooled around on an instrument or two. At first she tried guitar but ultimately decided on bass after playing her dad's vintage fretless Gibson ripper. Not to mention Cream again, but my husband taught her how to play the Jack Bruce part on "Politician" and she was hooked but you know, it's like driving, a parent should never be your teacher. She was the one who first started taking lessons with Paul Green at age twelve and it was Julie and Eric who were with Paul at the beginning…before there was a Paul Green School of Rock Music. They both appear in the documentary about Paul called Rock School which was released by Picturehouse Films last year to rave reviews.
Simon Owens: What are the five blogs you'd recommend to supplement the reading of your own?
Robin Slick: Well, I love every one on Myfanwy Collins' list (see your interview on August 29, 2006) so I don't want to be redundant. Here are some of my other favorites:
Neil Gaiman
Poppy Z. Brite
One Whipped Mother
Pete Townshend
Dgm Live