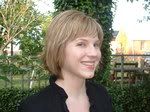 Gwenda Bond is working on a novel for teenagers that she isn't quite ready to talk about yet. She posts often about books and writing at her blog, Shaken & Stirred, writes an advice column for Lady Churchill's Rosebud Wristlet as everyone's Dear Aunt Gwenda, and co-edits Say… magazine with writer Christopher Rowe. She is a member of the recently formed LitBlog Co-op. She lives in Lexington with Mr. Rowe, who happens to be her spouse-type person, and their pets, Hemingway the Cat, Polydactyl, LLC, and Miss Emma the Dog-Girl, CPA.
Simon Owens: Since you focus a lot on both genre and non-genre work, do you think your blog is effective at getting readers to try genres they don't normally read?
Gwenda Bond: That is, of course, the hope. I really started the blog to make recommendations (and to stop inundating a certain group of my friends with email links to stuff) and, as a reader, I don't tend to draw very distinct lines in terms of genre. It troubles me that people may miss something they would love because it's just in a section of the bookstore they're unfamiliar with. In a glass half-full way, I tend to believe that a lot of people aren't afraid to read different genres, they just feel uncomfortable or overwhelmed seeking those books out — this I base on every successful genre novel that's made easier for mainstream readers to find.
I think I have a reputation as being generous with books, but that's because I mostly don't talk about ones I wouldn't feel comfortable pressing on another person. I try to be as specific about my tastes as possible, so people can tell whether they might like a book I recommend or not. In my little sandbox world, I'm happy if one person reads something I recommend and really loves it — this is the joy of setting low bars: I get at least one email saying that for everything I rec. I am often troubled at how often people need to give caveats about genre books though (really, it's GOOD!!! PROMISE!!!). A possible corollary to that old hippie phrase: If it's good, read it.
Simon Owens: Have the other lit bloggers been pretty receptive to a genre blogger?
Gwenda Bond: Absolutely. Zebras, not horses.
Simon Owens: Has the blog helped you in promoting your Say… titles?
Gwenda Bond: Um, I'd say yes to the limited extent that I (or my partner-in-crime Christopher Rowe, the Real Editor) have tried doing so. We definitely got a lot of subscriptions during the drive we held last year. On the other hand, we're teensy in terms of print runs. What we mostly do is try and get the magazines to those who will really enjoy it — and to the review outlets and best ofs. I don't think I do much more on the blog than remind people that Say… exists when we drop an issue.
Simon Owens: How do you find most your literary news?
Gwenda Bond: I go to this laundromat and there's this guy… I used to look more for "news," but now I point to news stories I just come across and mostly link to other blog content that I want to make sure anyone who reads my site sees. Again, it's largely to prevent me from inundating those I know with links. Any "real news" I get told about is top secret unless someone specifically tells me I can blog it. I think of myself as person/reader/writer and then blogger is somewhere way down the line. I don't automatically feel the need to publish everything I'm told about. That just doesn't interest me. I don't want to be a news outlet so much.
Simon Owens: Do you get a lot of review copies from publishers? Which publishers contact you the most often?
Gwenda Bond: I get a flabbergasting amount of review copies — flabbergasting to me, anyway. I also get most of the ones I ask for, which is nice. I can't say I actually break them down by publisher, but I will say that — for me, anyway — mainstream publishers are still way more likely to send books than genre publishers, something that I always find vaguely surprising. (This applies only to books sent to make me happy, not to books I request — I've actually never had any publisher turn down a request for a book yet.) Among the smaller publishers that I've found to be very good at judging taste and sending things proactively are Coffee House and Unbridled Books, both of which have excellent publicists. We're also blessed with an excellent library just four blocks away, so I rely heavily on it too.
Simon Owens: Do you tend to nominate a lot of genre books to the Lit Blog Co-op?
Gwenda Bond: Well, I've only been a nominator once so far, and I did nominate a genre title, Jeff Ford's The Girl in the Glass. As a nominator, I'm just looking for a book that readers of the LBC may have overlooked that I think is wonderful. Many, many genres titles are going to fit that criteria, because they are so often off the radar of all but genre readers.
Simon Owens: What upcoming book publications are you looking forward to the most?
Gwenda Bond: Oh dear. I never know what's coming out when. A few books I was really looking forward to have just come out and I'm in the process of reading them — Jeff VanderMeer's Shriek, Andrea Seigel's To Feel Stuff, Geoff Ryman's The King's Last Song, Julie Phillips' Tiptree biography. I'm very much looking forward to Cecil Castellucci's next novel Beige , Holly Black's Ironside and Justine Larbalestier's Magic's Child (oddly, all YA); there aren't even ARCs I can covet of those yet. Of things getting ready to come out, I would recommend any of the above, plus M.T. Anderson's Octavian Nothing: Volume 1 and John Green's An Abundance of Katherines (more YAs). Oh, and David Levithan's new one. I also can't WAIT for all the original anthologies Ellen Datlow has in the works. Or for Karen Joy Fowler's next novel (!), or John Kessel's or Kelley Eskridge's, for that matter–but, sadly, these don't exactly exist yet, though I understand all are in the works. On the upside, Nicola Griffith's next Aud novel has, according to Wiscon news, been turned in, so that one should be forthcoming (if not soon enough). I'm going to kick myself for leaving something out, I just know it.
Simon Owens: What are the five blogs you'd recommend to supplement the reading of your own?
Gwenda Bond: I think everybody reads the obvious ones (Maud Newton, Ed Rants, the Mumpsimus, Tingle Alley, etc.). I love Jeff Bryant's Syntax of Things and Carolyn Pinkhaus's Pinky's Paperhaus (and both of them just joined the LBC recently). Colleen Mondor at Chasing Ray and Jenny Davidson at Light Reading are two of my absolute faves. I also love Rarely Likable and wish she'd post more–and Jay Tomio's Bodhisattva is great. But I read way too many. Please, check out the blogroll and read the cutesy tags. In case Gavin blogs consistently now that he has a real one, I'll say him too. And the more personal blogs of Chance Morrison, Meghan McCarron, Dave Schwartz and David Moles. That's way too many, I know. Damn. I'm such a rec-whore.