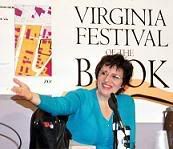 Bella Stander has the blog Reading Under the Covers, which is named for one of her favorite childhood activities. She is a writer and the principal of Book Promotion 101workshops and consulting for authors, as well as a consultant to the Virginia Festival of the Book. Formerly the book editor for a Virginia lifestyle magazine and a long-time contributing editor at Publishers Weekly, she has also written for Entertainment Weekly, People, The Wall St. Journal, Washington Post, Chicago Tribune, San Francisco Chronicle and other publications. Stander recently moved to Denver, where after suffering multiple injuries in an equestrian accident this spring, she has been doing more reading than ever. Hence she is very grateful that the Tattered Cover, Denver's eminent bookseller, moved its flagship store to just 113 steps from her front gate.
Simon Owens: As someone who not only blogs but is also a freelance writer, how do the two forms of media compare to each other? Do you do each in completely different styles?
Bella Stander: The freelance writing is more constrained: subject, word count and especially deadline are fixed, and one has to fit one's voice to the publication's style. Whereas on the blog, I write whenever, however and about whatever I want. That said, though, I do have my own "house style." I stick to the book business, writing, media, the arts and my travels; generally avoid politics (except for Kinky Friedman!); mention family as little as possible (though I occasionally kvell about my son, the Boy Wonder); and try not to whinge about the medical hell that currently is my life.
Simon Owens: Are book publicists taking the blogosphere seriously enough? Do you think more should send review copies to book bloggers?
Bella Stander: I think publicists are feeling their way, more or less successfully. They have to do a lot of research: find bloggers who can write worth a damn and have a large audience that will (1) buy books and (2) further spread the word about them. A couple weeks ago, in my post Book Reviews for Fun and Profit! I wrote about what happened when HarperCollins solicited a review of Remember Me: A Lively Tour of the New American Way of Death from one of the regular contributors at SomethingAwful.com. The result made for great reading, but I wonder whether it widened the audience for the book, especially since SA readers appear to be mostly young men whom I doubt want to think about death and funerals–and certainly not their own!–other than to crack wise about them.
On the other hand, it makes absolute sense to send childcare books to a mommy site such as Mommasaid.net, books on public policy to a political blogger, romances to a romance blogger, etc. You have to pick and choose wisely. But this is true for print publications as well: O magazine isn't going to cover a memoir of a WWII gunner; Outside isn't going to review a heartwarming tale of cross-cultural adoption.
Simon Owens: How did you first become a book reviewer? Is it hard to break into the business?
Bella Stander: I always loved to read, but hated writing book reports in school. So it's ironic that I did it for a living–well, part of a living, as no one is in the reviewing biz for the money–for nearly 20 years. My career path was rather unusual. I haven't taken any English or writing classes since high school, and in college studied art but dropped out two-thirds of the way to a BFA.
Movie director John Waters is the person who gave me the first glimmer of belief in my writing ability. I was working as the assistant (i.e., secretary) to Bob Shaye, the head of New Line Cinema, then a minor film company camped at the tawdry intersection of Manhattan's Port Authority and the Garment District. One of my many duties was to screen videos of movies that were submitted for distribution and to write up viewer's reports. Shaye showed one of my reports to Waters, who told him it was really funny and that I was a good writer, which was big news to me. I also reviewed screenplays while at New Line, and when I left did it freelance for some movie producers, including Dino de Laurentiis. At the same time I was working as an office temp, and got an assignment inputting copy at School Library Journal (this was before everyone had PCs), a sister publication of Publishers Weekly. The guy at the next terminal was pals with PW's paperback review editor, John Mutter (now proprietor of the daily bookselling newsletter Shelf Awareness). I asked John if PW used outside reviewers; he said yes and gave me a manuscript to review on spec. I'd reviewed it for a movie producer weeks earlier, so gave him a copy of my report. Voila! I became a book reviewer. I started with paperbacks, then added hardcover fiction, lifestyle and young adult. After a while I worked inhouse, then when I left NY I became PW's first telecommuter and also did interviews, wrote articles and compiled the twice-yearly announcement listings.
It took me nearly a decade to get up the nerve to branch out beyond PW. I started reviewing for the Washington Post through a PW contact, then got into the Chicago Tribune and Wall St. Journal the old-fashioned way–by sending a query letter and clips. I got into the San Francisco Chronicle and People through meeting their editors at National Book Critics Circle meetings.
So it wasn't hard for me to break into book reviewing. What's been hard is to stay in book reviewing. Under duress, I signed PW 's onerous retroactive rights contract (remember Tasini v. NY Times?), then "their needs changed" and I was out after 14 years. All of the editors I wrote for at other publications moved on to non-book-reviewing jobs and their successors had their own stable of reviewers. They're much smaller stables, too, as book review pages have been shrinking even while the number of books being published grows ever larger. In addition, the trend these days is for books to be reviewed by other authors (often competing authors, especially at the NYT, but I won't get into that here), which I'm not. Also, even though women comprise more than 50% of the population and buy something like 80% of the books in this country, they are vastly under-represented in the ranks of book reviewers–and authors of books that are reviewed–in our major publications.
Which is a long way of saying that I've given up clawing and kicking my way to remain in the ranks of book reviewers (though if called I will be happy to serve). Instead I'm focusing my professional energies on Book Promotion 101, my blog and creative writing, which includes the beginnings of several Good-Enough American Novels (I don't presume to write the Great one) and a memoir of my late father.
Simon Owens: Since you have to read so many books for your reviewing gig, do you ever get to pleasure read anymore, or do you always have to constantly analyze books as you read them?
Bella Stander: While I've been laid up the past four months, I've been reading only for pleasure; more like escape really. You can see my Library Thing list for this year on my blog. I'm currently slogging through Swann's Way, made even slower because I've been reading it at bedtime, and picking up the book cues the cat to curl up on my chest. There's nothing like a 13-pound purring feline to send one right off to sleep. But even when I was reviewing 1-2 books a week, I read for pleasure; and more especially greatly enjoyed some of the books I reviewed. Examples of the latter are The Golden Compass, the first two Harry Potters, Blue Latitudes by Tony Horwitz and Jane Austen in Boca by Paula Marantz Cohen. I still do analyze while I read, but not as stringently because I'm not preparing to write. The main difference is that when reading for review, I dog-ear and highlight (if a galley) or put sticky notes (if a finished book) on pages that have emblematic lines, whether brilliant or dreadful, that I may want to refer to in my piece.
Simon Owens: What upcoming book publications are you looking forward to the most?
Bella Stander: Due to my accident, which prevented me from attending BookExpo, I mostly missed the buzz over fall books and am now going through the spring catalogs for the VaBook Festival. But for fall, I am very much looking forward to Ralph Steadman's memoir, The Joke's Over: Bruised Memories: Gonzo, Hunter S. Thompson and Me. For spring: Town House, a debut novel about an agoraphobic musician by Tish Cohen; another first novel, Breakfast with the Ones You Love by Eliot Fintushel, described as a collision of "Gonzo science fiction and Jewish mysticism"; and The Rope Walk by Carrie Brown (Confinement).
Looking back, my favorite new books this year so far are When All is Said and Doneby Robert Hill, Triangle by Katharine Weber, The Pale Blue Eye by Louis Bayard andIf The Creek Don't Rise: My Life Out West with the Last Black Widow of the Civil War by Rita Williams.
Simon Owens: What are the five blogs you'd recommend to supplement the reading of your own?
Bella Stander: It's hard to limit myself to five, but here goes:
GalleyCat
Miss Snark, the literary agent
Buzz, Balls & Hype
The Man in Black
Critical Mass