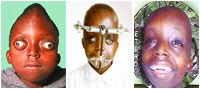 A boy from Uganda named Peter Byakatonda suffered from a condition that causes severe pressure to his brain. In a series of surgeries, his cone-shaped skull was taken apart and put back together:
"Rebuilding his skull into a more natural shape with restorable plates was like solving a jigsaw puzzle," Dr. Raul Barcelo, a member of the five-man team craniofacial plastic surgeons who conducted the procedures on Byakatonda, told ABC television Channel Eight News in Dallas, United States of America recently.

The pressure on his brain is already gone; his body functions that we feared had been lost forever have miraculously returned, and for the first time in his life, he can close his eyelids while his eyesight is gradually coming back," Barcelo said.

The decisive operations on Byakatonda were headed by Dr. Kenneth Salyer, an international craniofacial plastic surgeon at the Dallas-based Medical City Children's hospital in Texas.
The boy will have to go into more surgery when he's 18-years-old in order to balance his face and eyes. The condition he suffered from was called Crouzon's Syndrome. Apparently, the problem is typically fixed early in childhood, but this particular boy had to go through these tortures:
"Because of my strange appearance and abnormal shape of my head and eyes, I was constantly beaten, insulted and called a monster or a devil. I used to feel very bad but I had nothing to do."

When I went to Kiteredde Primary school in P.1, master Byekwaso sent me away after I had spent only three days in class. He claimed that whenever I tried to read or write, my tears dampened and stained papers.

"I was also never allowed to sit with my fellow classmates because teachers said my facial appearance frightened the children away from school."
Jesus, somebody needs to write a book or make a movie about this kid's life.
Extra bonus quote from the article:
"Cows became my good friends because they never abused and did not care how I looked. They provided me company when my peers rejected me," Byakatonda said
Related posts: Interview with Ace of Trump, Nestle to use molecular physics to improve their food