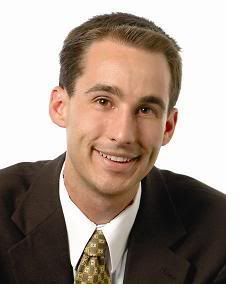 A doctoral student crunches the numbers to determine whether releasing books through Creative Commons and other methods really does benefit authors and publishers.
John Hilton admits up front that there would be no way to definitively prove one way or another whether releasing a book for free online will help boost print sales of the same title — he called such absolute statements "irresponsible" — but he is nonetheless trying to track down as many hard numbers as humanly possible to try to argue whether there's a positive effect. Hilton is a doctoral candidate in Instructional Psychology and Technology at Brigham Young University whose interests focus on open education and open access. For his doctoral thesis he's entering the debate that has reached a crescendo in recent years as Google strives to place millions of books online, all freely available (in some cases, only portions of the books are accessible) to its users.
For his research, he has located, so far, approximately 40 book titles for which publishers have released free online versions at least eight weeks after releasing the printed version. He does not consider books that were released both simultaneously for free online and as print products because then he wouldn't be able to observe the before and after effects on sales. He then records the Bookscan numbers — which account for about 70% of all US book sales, including those sold at most retailers — for the eight weeks prior to the free release and the eight weeks after.
On March 4 of this year, Random House announced that it would release five books for free through its science fiction portal, all of which came in downloadable PDF files (among other formats). Hilton recorded the before and after book sales and foundthat "one of the five books has had zero sales in 2009. So no sales before or after the free version. But the other four books all saw significant sales increases after the free versions were released. In total, combined sales of the five books were up 11%. Together they sold 4,633 copies the 8 weeks prior to being released free and 5,155 copies the eight weeks after being released."
So an uptick of about 500 books. As noted previously, this provides some evidence that there might be a positive effect, but it's impossible to account for all the other factors that may have come into play during those eight weeks. Perhaps one of the authors was featured by a major media outlet or the publisher launched a signing tour. The possibilities of outside factors are so numerous that it's almost impossible to create a controlled study on the matter.
"For example, with Random House, if they hadn't released those books for free, we couldn't prove that sales wouldn't have increased 60 percent but because of the free promotion they only increased [11] percent," Hilton said. "You just can't come to a firm conclusion because there's no way to tell. So I think it would be irresponsible to say that we could definitevely show causation, especially in some cases, like with Tor Books, where the numbers show something different."
Early last year, in an effort to get people to sign up for its e newsletter, Tor Books, the largest science fiction and fantasy publisher, began releasing free ebooks of its titles for those who signed up for its mailing list. Though the platform wasn't as open as some other free book promotions — in which the publisher releases a book under a Creative Commons license — those who were on the email list received a link to where they could download that week's free title. Many of the books that were featured in the promotion had been in print for some time (years in some cases) beforehand.
When Hilton pulled up the prior and post eight week numbers, he was astonished at what he found. "When you looked at eight weeks before and after, 20 of the 24 books that Tor gave away saw decreasing sales," he said. "To me that's a real puzzle. Random House was four for four with increasing sales, and Tor was 20 for 24 decreasing?"
For the eight weeks prior to the free releases, the Tor books sold 21,824 copies while in the eight weeks after they sold 16,556, a decrease of 5,268, or 26%. Of course many of the books had been out for some time and may have not been available anymore in most retailers. Also, most the books, Hilton said, only showed a difference of a few copies in the two time periods.
"This also doesn't quantify the fact that Tor received 10,000 or 50,000, or who knows how many people signed up for their newsletter," he elaborated. "That's also valuable, that maybe if they said up front that, 'hey we know that we're going to lose a few thousand in sales, it's worth it to us to have this massive email list."
These are all unknowns, and these unknowns leave enough wiggle room so that proponents of both sides of the argument have plenty of leeway to argue why releasing a book for free — whether it's through a Creative Commons license or Google Books — has a net benefit or detriment to sales. To try to close the gap on this wiggle room, Hilton will continue trying to find more books to add to his study — he said that finding 50, 100, or even 200 would greatly inform his findings — so that future authors and publishers will have at least some conclusive data before deciding they too would like to make the online book release plunge.