When I was in college, I took a poetry class taught by a guy of Indian descent named Kazim Ali. A few days ago, in the aftermath of the Virginia Tech shooting, Kazim was reading some poetry manuscripts for a contest he was judging. After he was finished, he packed the manuscripts into a heavy box and brought it to the outside of Wright Hall and placed it besides the trashcan to be recycled– something he's done dozens of times.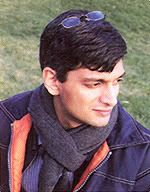 A member of the ROTC saw him place the box there. Or rather, what the person saw was a man who he thought to be an Arab placing a suspicious-looking box next to the building. He immediately called the police, reported that a man of "middle-eastern descent" had placed a box outside of Wright Hall, and within the hour the campus was shut down and a SWAT team was called in.
After it became apparent that the person who had left the box there was Kazim, he was called and put on the line with a police officer, who said that in the "current climate" he had to be careful what he did.
Since then, the university and the police have denied that this had anything to do with his dark skin. Kazim has been interviewed by several major news stations, and writes about his experience over here.
I heard from a friend who still attends the university that Kazim has already accepted a job to teach elsewhere. Thank god for that. What an embarrassment this must be for Shippensburg University.
***
Related posts: People who watch The Daily Show and Colbert Report know the most about current events, Oprah's "secret", To The People blogger owes the ACLU $100 and me an apology, Christians know very little about their own religion