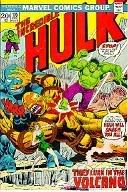 A blog called Comics Should Be Good has taken the Mythbusters approach to comic book urban legends and set out to see if any of them were true. A complete list of them can be found here.
Among the more interesting urban legends: 1. Mark Gruenwald's ashes were mixed in with the printing of a comic book.
STATUS: True

When Mark Gruenwald tragically passed away at the "too young" age of 42 in 1996, one of his farewell wishes was that he be cremated, and that his ashes be mixed in with the print run of a comic book.
2. Nicolas Cage took his last name from Luke Cage, Hero For Hire.
STATUS: True, depending on when you talk to Nicolas Cage

Nicolas Cage originally began acting under his birth name, Nicolas Coppola, which reflected the fact that he was the nephew of acclaimed director, Francis Ford Coppola.

However, since he did not want to appear like (in his words) "some nepotistic asshole," he decided to take a stage name.

The origin of the last name choice, though, has changed over the years. Originally, Cage (an avid comic collector, with a collection once worth in the millions, before he sold it recently) was quite up front about the fact that he took the name from the comic character, Luke Cage.
3. Woody Allen was once featured in an issue of DC's Showcase.
STATUS: True

In the late 60s, DC was searching to try to duplicate anything that was popular for any other comic company (specifically Archie), and the best place to try these concepts out was, naturally, Showcase, which served host to so many successful comic debuts for DC.
4. Marvel and DC own the trademark of the word "Super Hero."
STATUS: True

Reader Jason asked a question about a Captain America T-Shirt that he had that had a DC copyright on it.

It is likely that Jason's T-Shirt was, in fact, an error.

However, it did remind me of something that DC and Marvel DO share, and that is a trademark on the word "Super Hero."
There's tons more. Follow the links to read the rest.
Related posts: Interview with Derik Badman from Madinkbeard, The art of saying "I'm sorry."