Via nick I came across something truly bizarre tonight.
It's a man named Ashida Kim. Based on his website, he appears to be some kind of ninja, who operates a publishing company called Dojo Press. This is one of the books he's written: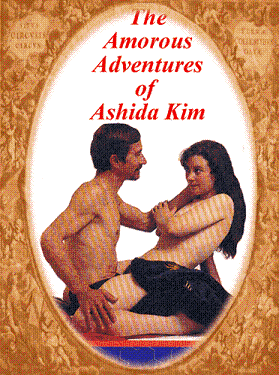 On his website, he has a link to an "official shit list" with all sorts of bizarre accusations. Who's on this shit list?
Jimmy Wales and all of Wikipedia. Also, publishers called Paladin Press and Citadel Press. Apparently they withheld author royalties from him or something.
Confused yet? Me too.
But these guys better be careful. This guy is a certified ninja warrior. Here's the flap summary of one his books titled "21st Century Weapons of the NINJA":
Ninja Master Ashida Kim demonstrates two of the most likely weapons man will face as mankind moves out into space in the new millennia.

ALIEN HORN SPEAR-
Based on the principles of how an alien beast might use its horns, this stainless steel double ended weapon might be used by any warrior race ravaging the universe.

LASER SWORD-
Man, or some similar alien species, will almost find a method of harnessing Light Amplified by Stimulated Emission of Radiation into a coherent beam that can be used much in the manner of a 20th century sword.
And don't think it stops there. You absolutely have to watch this Youtube video embedded below in which he demonstrates his laser sword skills: