I logged into my Facebook account like I usually do about once or twice a day, and was confronted with what many bloggers have termed "Facebook's new face-lift" (haha, clever). After looking at it for about ten minutes, I sent an instant message to one of my friends that said, "Hey, I now know how to become a professional stalker," and before I even had a chance to send my punchline, she replied "Join Facebook?"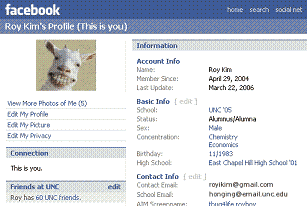 We had both noticed the same thing: With this new "face-lift," you can follow just about every single move of people on your friends list through what Facebook calls "news feeds" which show up on your page once you log on. You know when they update their profile, you know when they tag a new picture, you know as soon as they've become single or entered a relationship, you know when they write on someone's wall, you know when they pick their nose. I'd be lying if I said that I didn't find it all entertaining to see what my various friends were doing while on Facebook, but at the same time, this is some scary shit. And I'm not being melodramatic. In my college days, I used to spend an ungodly amount of time on Facebook, and if this feature had been around back then, people would have known what I had been up to every time I logged on. They would have known who I added as friends, who I'd been talking to the most, etc… If somebody wanted to spy in on all my facebook conversations, they could just read their news feed and just visit the profiles of those whose walls I'd written on. The possibilities are endless.
Pretty soon, Facebook will allow you to monitor who views your profile, and by then there will be absolutely no privacy to the whole thing. Like if you wanted to search for the cute girl in your History class to look at her profile and see if she's single, she'll automatically know you looked her up.
This is mind-blowing.