If you're a Stephen King fan, you likely know that King has written several novels under the pen-name Richard Bachman, the most famous of which was likely Thinner. After it was revealed that he and Bachman were the same, King only wrote one more novel under that name, The Regulators, which was set in a similar world to his other novel (written with a SK byline), Desperation.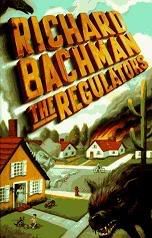 Well, it looks like King will be publishing a new book under the Bachman name. It'll be titled Blaze. Follow this pdf link to read the first two chapters.
I don't have time to read them just now, perhaps tomorrow I will.
via carnwrite
***
Related posts: How much a Science Fiction novelist makes, Interview with Chandrahas Choudhury from The Middle Stage, Nick Mamatas releases his first novel under a Creative Commons license, Why bloggers aren't always great at selling books