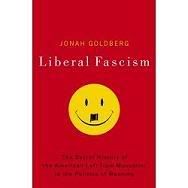 Many liberal blogs have spent the last few weeks mocking a book by National Review editor Jonah Goldberg called Liberal Fascism. To get a taste of said mockery, go here and here.
What perplexes me is why Goldberg and/or his publisher decided to use a Smiley Face to represent "liberalism" on the cover. I did a little bit of digging into the history of the smiley face and couldn't find many traditionally-liberal connections to it.
For me, a person living in the 21st century, the Smiley Face invokes a connection to Walmart, which has used the face heavily in its advertising. Wouldn't Walmart — and the smiley face's historical background with its creation by Harvey Ball — be associated with pure capitalism? In fact, the story of how Ball lost out on millions of dollars because he failed to copyright the image seems like an anecdote right out of the corporate handbook. "This is why we must sue everyone who even mentions our copyrighted material!" I picture the company executive saying.
I did a little bit of Google searching and came across this explanation from Goldberg himself:
The cover, the smiley face with the mustache, is a play on something I explain on basically Page One of the book, and it's a reference to what George Carlin and Bill Maher call smiley-face fascism. And if you can't get past the cover and the title, then you're not a serious book reader and you're not really a serious person.
Right, so you ignore the widely known connotation of the Smiley Face — both its origin and current-day association — in favor of some obscure reference so unheard of that Googling the term "smiley face fascism" brings up mostly references to your book on the first page of the search results?
Does any one else find it funny that Goldberg uses the words "serious book reader" in connection to a book that is ludicrously called Liberal Fascism?
***
Related posts:
1. Malcolm Gladwell back in action
2. The history of the Typewriter