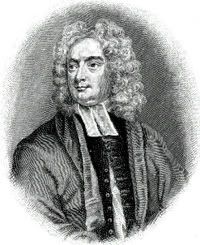 Jon Swift, who started his modest blog in December 2005, is a "reasonable conservative," who gets all of his news from Fox News, Rush Limbaugh and Jay Leno monologues. Preferring to blog anonymously because of some misunderstandings with creditors, Swift's moniker is a tribute to the brave Swift Boat Veterans for Truth. His Amazon reviews proved once and for all that you don't need to read a book to review it, his still unconfirmed story on the death of Michael Ledeen was widely reported and recently his post on "Amnesty Day," the effort by major liberal bloggers to make their blogrolls smaller and more exclusive than they already are, helped spark an Internet-wide revolt. For more of Jon Swift, who was nominated for a 2006 Weblog Award for Best Humor Blog, see the Best of Jon Swift.
Simon Owens: When I first followed a link to your blog (I think it was from Sadly, No!) several months ago, I immediately thought of Stephen Colbert and the conservative character he portrays. This is kind of an odd coincidence since you're the second blogger I've made that comparison to this week. Do you think of yourself as kind of a blogger version of Colbert?
Jon Swift: I started my blog at the end of 2005 around the same time that The Colbert Report went on the air but I had no idea who he was until the White House Correspondents Dinner. When some people compared me to Colbert on their blogs, I thought they were talking about Claudette Colbert, who is one of my favorite actresses. I must say I was a bit disappointed to discover they were not actually comparing me to her. But I was very impressed at the way Colbert took on the liberal media at the Correspondent's Dinner and the way he defended the President. And I thought it was terrible the way liberals like Richard Cohen attacked him for his conservative views. That being said I do admire Cohen for his support of the War in Iraq and for defending the right of reporters like Judith Miller to do their jobs, which is to write down whatever their confidential sources in the White House tell them at dinner parties and report it without questioning what they say. I do occasionally watch Colbert now and I suspect he must be a reader of my blog because sometimes the things he says bear a striking resemblance to things I've written. Not that I'm accusing him of anything. I'm sure it must be a case of great minds thinking alike.
Simon Owens: Have there been any cases when bloggers took your posts seriously? As in they didn't get the "joke," that you were mocking a particular political ethos?
Jon Swift: I hope everyone takes my posts seriously since I put a lot of serious thought into them. One of the reasons I don't post quite as often as other bloggers is that I consider every issue from all possible angles before I write what every other conservative is saying. I'm not against the occasional one-liner but I try to avoid humor whenever possible because I don't think everyone is equipped to handle it properly. It often seems that cruelty, venality and stupidity are routinely dismissed as being "just a joke." I think the blogosphere could do with a lot fewer of these kinds of jokes. I was very surprised when I was nominated for a Weblog Award for Best Humor Blog because nearly all of the humor in my blog is completely unintentional. Although I often get attacked by liberals, I also get attacked quite often by conservatives. I was banned from Red State for having liberal blogs on my blogroll and for being entirely too reasonable. And I have often been called a "troll" on such bastions of liberal inclusiveness as Daily Kos, Atrios and Firedoglake. I am proud to have been called a moron by people on both sides of the political spectrum.
Simon Owens: You were one of the first bloggers who commented on the "blogroll amnesty day" controversy. As someone who links liberally, how strong of a revolt do you think the blogosphere put up? Do the B-list (those who have a few thousand daily readers) bloggers have enough power to push new bloggers onto the A-list? What did you think of the A-listers' responses to all the outrage?
Jon Swift: I think I was actually the first blogger to question the notion of Amnesty Day. All of the other posts I could find before I wrote my post talked about what a great idea it was to pare down blogrolls to a list of the blogs that are on everyone else's blogroll. I'm afraid that if Atrios declared Shoot Yourself in the Foot Day we might have a lot of liberal bloggers limping around right now. None dared even link to my piece until skippy took up the cause and then suddenly it was as if people had permission to say the emperor was very skimpily attired. I have had a liberal blogrolling policy — which is that I will blogroll anyone who blogrolls me — for quite a while and I was surprised that it hadn't caught on before. Conservative bloggers have already shown they can push quite a few blogs onto the A-List. They not only have larger, more inclusive blogrolls on average, they have a number of communities that are powered by Blogrolling.com that instantly give new bloggers hundreds of links. Liberals have virtually none. They also participate in Blog Carnivals and Open Trackback parties more than liberal bloggers. So far Atrios and Kos have responded quite defensively to the rumbling voices of dissent. As I pointed out in a comment to Kos' recent post about the issue, "With great power comes great responsibility and there is always a danger that one will become aloof and out of touch, though I can't think of any examples of that at the moment among our present political leaders."
Simon Owens: Do you find that conservatives are open to laughing at themselves when they're mocked? One critical article I read somewhere said that the reason liberal comics are more successful is because they're able to turn their mockery on themselves. Do a lot of conservatives link to your individual posts?
Jon Swift: I would be very careful about saying that either conservatives or liberals are better able to laugh at themselves. I don't think one side or the other has cornered the market on humorlessness. I don't think anyone likes to be attacked no matter how hilariously. Calling people names and using foul language are not necessarily funny in and of themselves. Personally, I don't use bad language because I am trying to preserve my future viability as a presidential campaign webmaster. If not cussing is the main criterion for being a campaign blogger, then I may be the only qualified candidate left in the near future. Recently, Ed Morrissey at the conservative blog Captain's Quarters wrote very graciously about me, "I have been the target of his wit on more than one occasion. However, he's too good of a writer to miss." I'm not sure what he is talking about because I don't recall ever targeting him, but I think it's a pretty classy thing to say, nevertheless. I think we could use a lot more class like that in the blogosphere no matter what you think of his political ideology.
Simon Owens: I've seen a lot of conservative bloggers criticize people like Glenn Greenwald for writing extremely long posts, as if they're convinced that Internet readers have the attention spans of a fruit fly. As a blogger who tends to write longer entries, do you think this hinders your ability to become a more popular blogger?
Jon Swift: No. What was the question?
Simon Owens: What are the five blogs you'd recommend to supplement the reading of your own?
Jon Swift: Well, I hate to limit it to just five blogs because there are so many great blogs out there. So I would ask that your readers take a look at my blogroll, go read someone they have never read before. But I will point out some blogs that have been especially supportive of me who deserve some special attention and one already very popular blog. The Moderate Voice doesn't need any help from me but as I have said on many occasions Joe Gandelman is one of the nicest guys in the blogosphere and his blog was the first major blog to link to me. His posts often contain links to a wide variety of voices and his blogroll is perhaps the most extensive and inclusive of any blogroll on the Internet. One of his co-bloggers, Polimom, also has a great site of her own and I always enjoy her refreshing and commonsense take on the issues of the day. I have no idea why Candide's Notebook by Pierre Tristam is not on every liberal blogroll. Although I disagree with everything he says, he's a great writer and I always have to think twice before I dismiss what he says out of hand. Two group blogs that were early and gracious supporters of mine and always have interesting content are Bad Attitudes, run by Jerome Dolittle, and Kevin Hayden's American Street. They have a lot of great writers and should both be on everyone's blogroll. There are a lot of blogs on my blogroll that don't get nearly the attention they deserve, but to give just one example of a blogger I discovered relatively recently who started around the same time I did, Zuky writes about culture, history and politics and is especially eloquent on the issue of race. He is the kind of blogger you would think would be on every major liberal blogroll, but isn't. There are plenty of other blogs I read and enjoy — both large and small — so I hope everyone will take a look at some of the other great blogs on my blogroll as well.
***
(Related posts: Interview with Skippy the Bush Kangaroo, Interview with John Hawkins from Right Wing News, The nerdiest wedding proposal I've ever seen)